Home for the holidays and in need of a quick getaway from the family? Luckily there is an app for that… Grindr, Scruff and co can be great fun and add some variety to your sex life  but it can be also be frustrating experience. So here are 3 tips to make the best of it:
Know what you want
This should determine the app you use. Go with the reputation of the app: Grinder is mostly for casual sex – apps like Tinder, OKCupid etc are more for dates. Yes, there are people who find love on Grindr, but that is probably despite of the app and not because of it. Equally, on Tinder it is possible to find quick hook ups – but generally they tend to be more chats and dates.
Use it when you have the time
Especially for hook up apps, remember often things happen quickly. For dating apps, you may go for a drink in a few days. So make sure you connect to the right app when you actually have time – either fairly quickly to meet for a hook up, or when you are staying a few days, why not try a local date?
Don't be nice to bad guys
Yes, the truth is, all of these apps have quite a few annoying weirdos hanging around (here are some annoying examples). Remember: their problem isn't yours, and a hook up app isn't a replacement for personal counseling (and you're not their therapist). Shrug them off and move on … or block them… It's self-care – and you are home to enjoy the holidays!
With these three tips in mind: Have a great holiday season wherever you are … and whatever you are looking for may you find it! Happy hunting!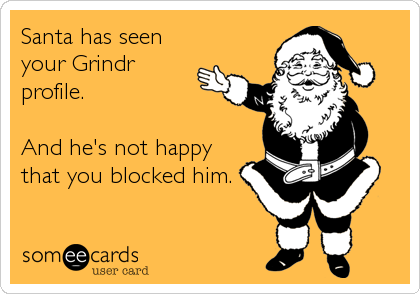 Surviving (not just the holidays) on hook-up apps